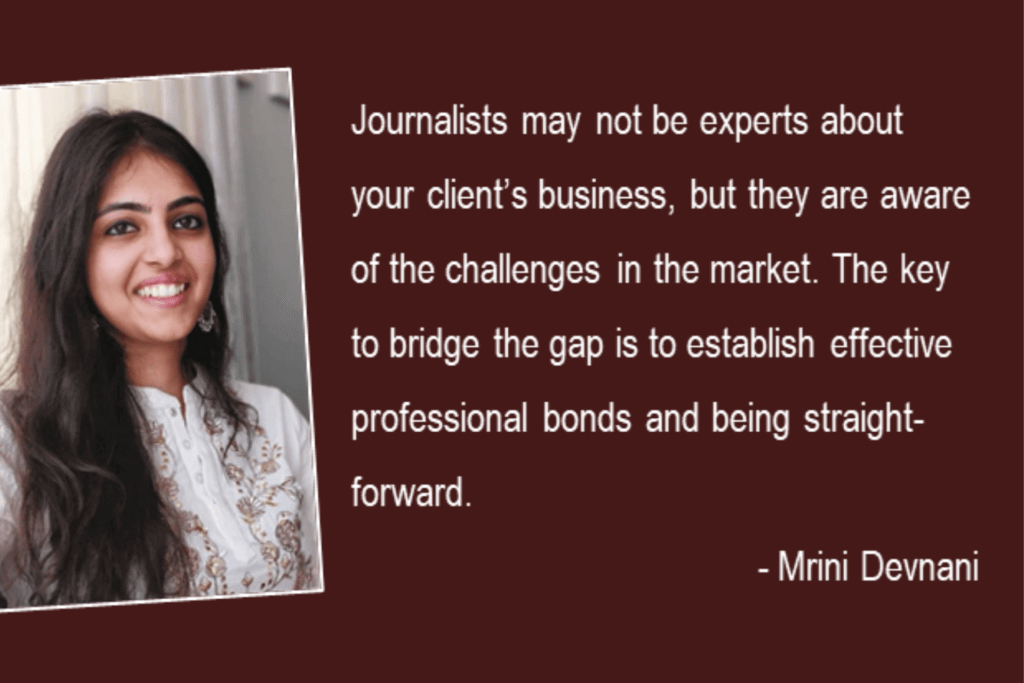 Public Relations (PR) is all about putting forward the right message efficiently, and it is needless to say that journalism and public relations are two parts of the same puzzle. While one hears more about journalists being spammed by endless press releases and pestering calls from PR professionals, it is also equally important to address the challenges that PR professionals face with strict deadlines and ambitious targets. Given the lightning speed of change in the information landscape which has accelerated manifold in the past months, young PR professionals are finding it hard to establish and maintain an effective network in the media industry. Here are some basic tips for individuals starting out in the field of public relations, on how they can build long-term associations:
Know your client – PR professionals convey information that journalists may or may not be aware of. Therefore, when reaching out to introduce your client, be sure that you establish a rapport before you start briefing them. Do not assume what you know is 'universal knowledge', and remember to provide some context. Then, propose your client's unique selling point and try not to leave any space for ambiguity. It is alright to go back for complicated queries, but representing a client requires thorough knowledge of your client's business.
Prepare your outreach well: The work of a PR professional is not just to know about the client but also the media s/he is contacting. Chart out the basic points you want to highlight about your client and communicate your subject matter, how it can be relevant for media in the current scenario. Be concise and clear in your approach while putting across why your client should be a part of a particular portal.
Understand the beat: Journalists are oftentimes working for more than a single beat. If you track their stories regularly, you can tailor your approach to the content of the media you wish to reach. Moreover, be sure about the format you want your client to be featured in and then place yourself.
Be clear about deadlines: You will often find yourself in flux, trying to balance a client and a journalist when it comes to deadlines. However, at both ends, you must deliver on time. In a circumstance when a client may take longer to respond, keep the journalist in the loop. Plan in advance when it comes to deadlines to avoid inconsistencies.
Be the solution provider: Suggest an alternative if something is not working out. Remember that you are a common point of contact between the client and the journalist, therefore, at all times, you must be able to propose solutions. Put across a positive approach to get things done.
Refrain from spamming: If a certain client is not making sense for a media portal, there is no point spamming a journalist with the same information time and again. Research your target media and only reach out to them, since each portal has its own set of specifications and format. Do not underestimate a good media database. It is advisable to have a leaner and precise target list than one that isn't effective. Spend some solid time in creating a unique database.
Keep content clean: While drafting a Press Release, start from what is most relevant and stick to a word limit. Avoid long sentences and keep a check on grammar and sentence formation. Check for redundancies and include facts and figures to make it constructive. In the meantime, look for grammar and spell-check softwares to help basic sentence construction.
Do not fool around: It is a good idea to set up a time and make an appointment with a journalist before ringing them up; best is to write an email or a message describing your purpose. To make things easier, only promise deliverables which you can provide. Many a times, journalists get frustrated when a query is submitted and there is no response. Do not ghost out after receiving a set of questions and know your client's policies before you can commit to answering them. You should already have an idea about the topic of interest from the journalist's side before inviting a query (unless it is a crisis situation).
Journalists may not be experts when it is about your client's business, but they are aware of the challenges in the market. The key to bridge the gap is to establish effective professional bonds and being straight-forward. Bank on your skills, think practically, and value your associations to strike the right balance.